Green Tree Pythons
Green Tree Pythons are my passion.
Whether you are looking to acquire your first, or you are a seasoned green tree python breeder, I will provide you with all of the support you will need to ensure your success with these animals.
My collection is made up of two primary locality types: Arfaks and Manokwaris. I chose these animals due to their unique appearances, high blue coloration, and their limited availability (especially in the case of Arfaks) in the current market.
On a side note, there seems to be some debate as to whether or not Arfak locality animals and Manokwari locality animals are "one in the same". While there is no definitive answer, I continue to call my animals "Arfaks" for two primary reasons: The first is that I acquired my original pair of "Arfaks" many years ago, both originated from Bushmaster Reptiles, and both were red neonates.
In addition, my Arfak animals only produce red neonates, while my manokwari animals produce both red and yellow neonates.
Arfak Chondros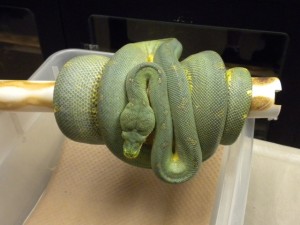 Arfak Female
She hatched in 2004, and she originated from Bushmaster Reptiles as a red neonate.
Arfak Male
Obtained as a red neonate from Bushmaster Reptiles in 2006.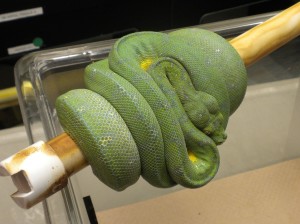 Arfak Female
2009 Female acquired from a private collection, and originally purchased from Bushmaster as a red neonate.  Hope to breed her in 2015.
Manokwari Chondros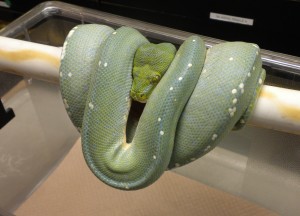 Original Female "Prada" Manokwari
This girl was purchased by Dave Prada of Komodo Reptiles as an imported (Captive Hatched) yellow neonate in 2003.
She produced several clutches over the years with the original "Prada" Manokwari Male, and some of their offspring remain as the highest blue, Captive-Bred locality chondros in collections today.
I am currently raising several of her 2013 neonates, (below) and I hope to be able to breed them by 2016 – 2017.

Original Male "Prada" Manokwari
This boy was purchased by Dave Prada of Komodo Reptiles as an imported (Captive Hatched) red neonate in 2003.
Along with the above female, he has produced some amazing high-blue offspring.
Sadly, this male died in June of 2013, and the 2013 clutch he produced with the original Prada Manokwari Female was their last.
F1 Male Prada Manokwari
This blue male was produced by the Original Prada Manokwari pair in 2007.
He was a red neonate, he produced his first clutch for me in 2013, and he continues to be a great breeder.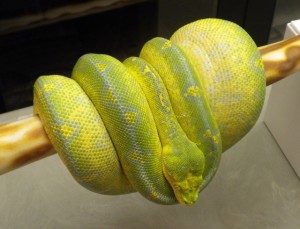 Female Manokwari
I was lucky enough to have this beautiful girl in on breeding-loan in 2013.
She was returned to her owner, but I was fortunate enough to breed her with my blue Prada Manokwari male, and I am currently raising their offspring.
This girl originated from Bushmaster Reptiles in 2009 as a red neonate.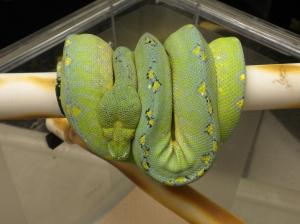 2013 Female Manokwari -Offspring of Original Prada Pair
Hoping to breed this girl in 2017 – She was a red neonate
 2014 Male Manokwari – Captive Hatched
This boy was purchased sight unseen as a captive hatched red baby,  however he instead arrived as a larger orange-ish yearling.  He is an awesome animal and I'm excited to work with him.  Hoping to breed him in late 2017.
Miscellaneous Chondros
 Unknown Locality Female
  "New Blue" Female